Amber Fleming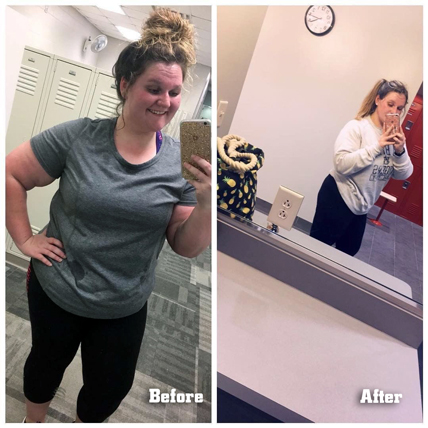 Amber's  Transformation Success Story began after she became a member in February of 2018. She started training with Lamar and quickly started making some changes. Her consistency, hard work and dedication has helped her get one step closer to reaching her goal and it shows! She has already lost about 43 pounds! Keep up the great work, Amber!
Tate Patterson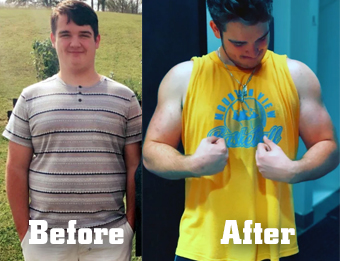 This Month's Transformation Success Story is Tate Patterson. Tate is a 17 year old student at Fred T Foard High School. Tate has been working out at SouthSide since August 2017. His results are proof of his hardwork and dedication.
Here's what Tate had to say. "In August 2017, I was 274 pounds. To date, I have lost 72 pounds with hard work, diet, and exercise. I want to say a huge "Thank You" to Southside fitness for helping me work towards being a healthier and happier me."
Tate, we are so proud of you. Your had work has certainly paid off. Keep up the great work, Tate!
Shannon Abraham

Shannon is a wife, mother, and Paramedic. She works hard in and out of the gym. Shannon finds time to workout with her busy schedule as well as bringing her son to the gym for Lamar's Youth Training Group on Tuesday and Thursdays! Shannon is dedicated to reaching her goals and to helping her family reach theirs!
Keep up the great work Shannon, we are so proud of you!!
Chesley Price

Chesley has been a SouthSide member for little over a year and the progress he has made is not only incredible but life altering.
Chesley came to SouthSide for a change of atmosphere and with a drive to better his health. In the year since he has been here he has lost weight, gained muscle and made a bunch of supportive friends in the process. He dedicates a few hours each day for his gym sessions and is very serious about reaching his fitness goals. Keep up the great work, Chesley we are all very proud of you!
Matt Long

Matt has been a SouthSide member since 2015. As you can see he has made quite a few changes. Before, he was constantly running and only eating around 1200 calories a day. He decided he wanted to gain some weight so he joined SouthSide, started eating more and picked up some heavy weights. Now he is working towards competing in Men's Physique competitions in the near future! Let's cheer on Matt as he works towards another goal! Great work, Matt! Keep it up!
Tavia

 Bernhardt
 
Tavia was one of SouthSide's first members upon opening in December 2014, and has been a dedicated member ever since. She manages to juggle family, a full time demanding job, all while getting her daily workouts in and staying true to her meal plan. Tavia recently decided to compete in her first physique competition, and with the guidance of Team Bombshell and Jason Parsons, she followed her meal plan and workouts to a "T" and it has certainly paid off. Out of the two competitions she's competed in over the past few months, Tavia has taken home a total of 11 trophies. Tavia's most recent wins include 1st Place in Masters 35+, Overall Open Class, and Overall Bikini! 
No matter how tough her training became or how hectic life was, she always entered the gym with a cheerful smile and positive attitude.
Stacia Carswell

Stacia aka"Delicate Flower" has been a dedicated member since joining. Every afternoon Stacia and her work crew come to the gym on their lunch break to squeeze in a workout. A few months back Stacia decided to start prepping for a bodybuilding competition. Staying dedicated to her workouts and meal plan, she has seen amazing results so far! Even though she recently received doctors orders to only do low impact cardio for the next six months she is still working hard, sticking to her lunch dates with the gym and clean eating! Lets cheer her on while she continues to kick butt! Great job Stacia!
Caroline Congro

"Training with Christie West has made the word "beautiful" have a whole new meaning. For me, I have always wanted my body to look like a petite girl's figure. I felt that their body was the definition of fit, skinny, and healthy; but I have come to realize that was a misconceived idea. Training with Christie is helping me become a beautiful and healthy girl. Working out with Christie has made me see life from a different view. Christie is not only toning the outside of my body, but toning me mentally as well. We also talk about nutrition and not the word "diet." Healthy eating is an ongoing process that I must keep with my busy lifestyle. I am now eating more vegetables, leaner meat and cutting back on carbs and sweets. I still eat these, but in moderation. I do not pour dressing on my salad, but take my salad and dip into the dressing. I try to eat smaller meals during the day so that my sugar level does not drop as I am still growing. When someone says "Wow, your legs look great!" it always brings a smile to my face and it shows me that I am morphing into a strong and beautiful girl. Christie is more than just my trainer; she is my mentor, a role model, and definitely a friend. I could not be where I am mentally and physically without her."- Caroline Congro
Lindsey Greene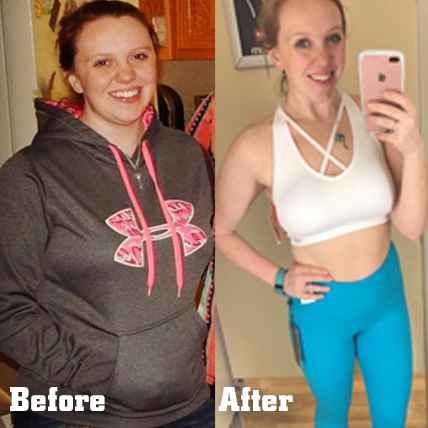 "I started what I guess you'd call my "journey" in 2014. I had gained 40 pounds being in nursing school and had also been recently diagnosed with hypothyroidism, which has side effects of slower metabolism, lower energy and weight gain. Over the next couple of years I would roller coaster through diets and exercises that never stuck.Finally around the summer of 2016, I was fed up with the back and forth of not sticking to anything and decided to get serious about my health and fitness. I started running and doing HIIT workouts three times a week. I also do some weights and classes at Southside which always helps keep me interested and motivated in continuing to work out. I'm down 40 pounds from my heaviest weight and I'm a lot happier and healthier!" Lindsey Greene
Christopher Gochnour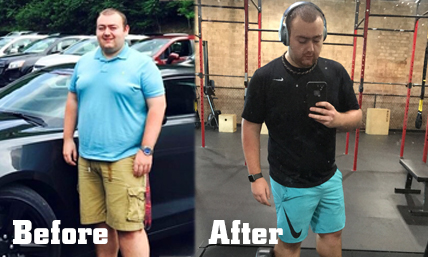 Since Christopher joined SouthSide back in September he has lost weight and is living a healthier lifestyle. Chris is focusing on eating right and sticking to the course, all while keeping a positive attitude and helping to lift others up in the process. His consistency and hand work in the gym is certainly paying off! Chris, your SouthSide family is pumped about your results, keep it up!
Aaron Haddock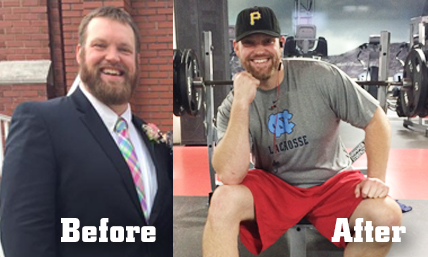 Aaron Haddock's transformation story is remarkable. Aaron joined SouthSide about a year ago, weighing 345lbs and is down today to 270lbs (75lb weight loss in less than a year)!
Aaron's motivation comes from his boys and wanting to stay fit and healthy for them. "I realized that if I didn't start taking care of myself that I wouldn't be able to do the things that they wanted to do as they got older. I also wanted to set an example for my boys and show them the importance of maintaining a fit and healthy lifestyle.
Weight training, coupled with cardio and a healthy diet has helped me lose 75lbs. I'm happy that I joined the SouthSide family!"- Aaron Haddock
Sarah McDonald
Sarah has been a SouthSide member since January 2016. Since then she has had a vision and has fought for it every step of the way. She wanted to get lean and build muscle…and as you can tell she has done just that! What a great transformation, Sarah! Keep up the great work!
What motivates Sarah? Sarah said,  "My son inspired me to be healthy, I started lifting and I've been hooked ever since!" – Sarah McDonald
Christian Ohmer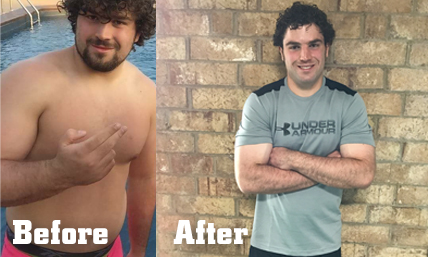 "What a difference a year can make in both how I feel and how others perceive me.  I was persuaded to join SouthSide Power & Fitness in February of 2015.  Upon completing my free trial workout, I felt compelled to join SouthSide as a member.  SouthSide Power & Fitness provides its members with a great atmosphere for training with a staff that is both supportive and enthusiastic.
I joined SouthSide weighing 251 lbs. with no clear fitness goals at the time.  I felt that I had tremendous potential for achieving fitness as I had been involved with athletic programs in my past.  Working out to me, at the time, was only about how much weight I could lift.  The mindset changed once I realized that total fitness is an opportunity to flourish in aspects of life that go beyond just physical fitness.  I started to look beyond just the numbers of how much weight that I could lift to a higher goal of being my best, making and keeping my commitments in combination with healthy physical habits.
My diet was an area that I changed in the process of working out at SouthSide.  I began to eat of variety of proteins, whole grains, fruits and complex carbs.  Workouts consist of high paced weight lifting and cardio, such as walking.  The results were astonishing both physically and mentally.  I kept my commitment to work out regularly at SouthSide and was very pleased with how may body responded.  My appearance had changed and how great it felt to achieve improvements in my life.  It was also funny how some people that I have met at SouthSide, no longer recognized me.  I am ecstatic with my new weight of 180 lbs.
I will continue to strive to prosper in all aspect of my overall health.  I am so thankful for SouthSide Power & Fitness for providing an excellent facility and equipment to utilize towards personal improvement.  I appreciate the staff for their friendliness and personal attention to each member.  I am thankful and blessed to have Jesus Christ as my savior.  My transformation is an example of an abundance of his miracles and grace." – Christian Ohmer
Angelica Rathburn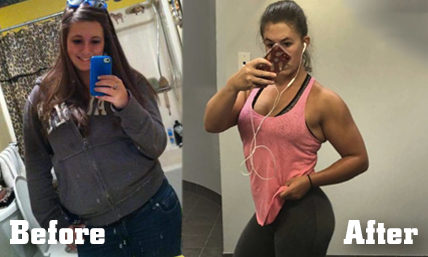 As soon as SouthSide opened its doors, Angelica became a member!  She has accomplished so much since joining 2 and a half years ago. Not only has she lost weight and gained muscle but she also earned a Nursing degree and competed in two bodybuilding competitions!
Way to go, Angelica! Keep up the great work!
Tina Stephens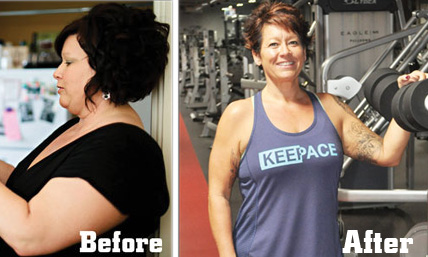 Tina Stephens lost 82 lbs in one year and contributes her weight loss success to the inspiration and encouragement received from the SouthSide family.
"It's amazing when you get sick and tired of being sick and tired what you will do. I have been doing Crossfit for 3 years but couldn't reach my goals, until I came to SouthSide. The inspiration and encouragement has allowed me to get closer than ever before. And 82 lbs down in one year! The staff is so great to work with and I am honored to be a part of the SouthSide Family. The positive atmosphere and encouragement from others helps keep me on track…SouthSide Power & Fitness Rocks!" – Tina Stephens
Tina, you are amazing and a true inspiration to everyone. We are so proud of you and all that you have accomplished!
If Tina looks familiar to you, it's because she also teaches our Pit Fit classes. If you haven't tried out the Pit Fit class, you are missing out. Tina's positive attitude is infectious and just what's needed to conquer her 30 minute Pit Fit Class.
Nick Yapundich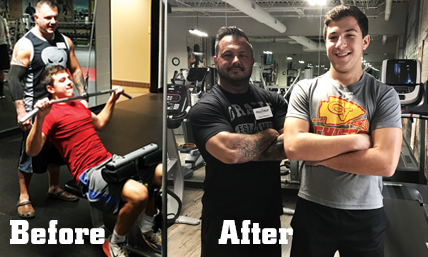 Nick has been training with Jason Parsons for about 6 months. Within that time he has gone from 160lbs to 198lbs! He has gained significant strength on all of his lifts as well as increased his endurance.
"As a lacrosse player this is going to greatly help his game! Nick doesn't whine or quit. Each time he steps into the gym he is determined to beat his previous time or previous lift! Way to go Nick! Keep up the great work!